Your help is needed to save the research ship Hakken
The research vessel Hakken (meaning 'discovery' in Japanese) was built in 1993 in Shiga Prefecture as a research ship designed for operations in the inshore waters as well as the deep basin of Lake Biwa, Japan's largest lake and drinking water resource. With its maiden voyage, the ship proved its great value in lake research when it played a major role in data collection during BITEX'93 (Biwako Transport Experiment), and later served as the mother ship for the world's first lake-operating Autonomous Underwater Vehicle (AUV) "Tantan" from 2000 to 2012. R/V Hakken has also participated in numerous rescue and salvage operations on the lake.
In 2016, the vessel was sold by Shiga Prefecture to the certified non-profit organization Biwako-Trust. From 2018 onwards, it has been used to train students in the Junior Doctor STEM program. R/V Hakken continues to be an important platform for teaching elementary to high school students about earth and environmental sciences, and about ecosystems and climate change. We would very much like this to continue.
As it was built in 1993, R/V Hakken is now approaching its 30th year in service, and shortly has to undergo a thorough inspection to ensure ongoing safe operations. The ship is also due for repair and replacement of its engines and electrical systems, and without this work the ship will be decertified and permanently removed from service.
We aim to get the ship fully repaired and renovated by the inspection date (April 2023). But to do so, we need a fund of 30 million Japanese Yen (Approximately 250 thousand USD). Although our usual budget comes from donations by our supporters, these funds are reserved for educational purposes. It is not easy for us to raise the large sum required to fix and maintain our distinguished vessel Hakken, and we have therefore decided to employ crowdfunding to raise the necessary funding.
Please support us to save Hakken.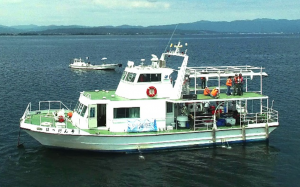 R/V Hakken on Lake Biwa (March 2022)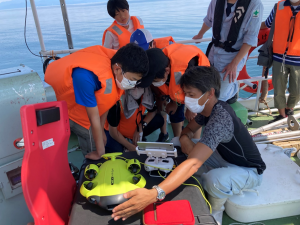 Field training on Lake Biwa (July 2021)
Further details are given below about appreciation gifts for your donations.
Contact: Dr. Michio Kumagai
Secretary General
Biwako-Trust
5-1-1 Hamaotsu, Otsu 520-0047, Japan mkt24354@se.ritsumei.ac.jp
Professor, Ritsumeikan University
We have prepared the following gifts to express our sincere gratitude for your donations.
(1) 10,000 Yen (about 84 US$) – An original SDG's poster drawn by Sayane Sato.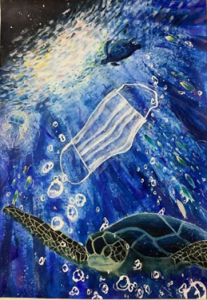 (2) 100,000 Yen (about 840 US$) — Guided tour on Lake Biwa with students (return international travel to the lake site is not included).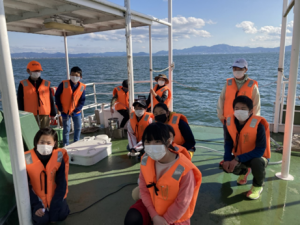 (3) 1,000,000 Yen (about 8,400 US$) — A parabolic painting drawn by renowned artist Brian Williams (30 – 50 cm wide).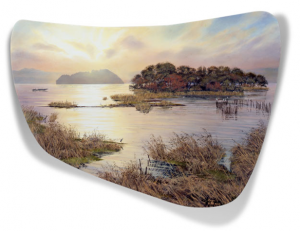 (4) 10,000,000Yen (about 84,000 US$) — A large-scale parabolic painting drawn by renowned artist Brian Williams (150 – 250 cm wide).